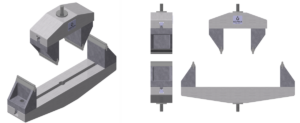 ASTM D790 are used for determining the flexural properties of unreinforced and reinforced plastics, including high modulus composites and electrical insulating materials utilizing a three-point loading system to apply a load to a simply supported beam (specimen). ASTM D790 can generally be applied to both rigid and semi-rigid materials, but it is not possible to determine the flexural strength for those materials that do not break or yield in the outer surface of the test specimen within the 5.0 % strain limit.
Test specimens of rectangular cross section are injection molded or cutten from molded or extruded sheets or plates. The sample must have precise characteristics: it must be solid and its external surfaces must be rectangular evenly.
The specimen is supported by two supports and is loaded through a half load nose between the supports. The deflection can be measured in two ways; using crosshead position or a deflectometer. Please note that studies have shown that the deflection data obtained will vary depending on the system used.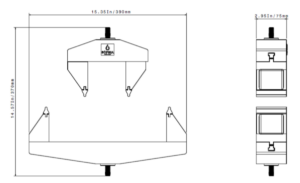 | | |
| --- | --- |
| Test Standard | ASTM D 7264  /  D 790  /  D 6272  / D 4476  / ISO 178 / ISO 14125 / ISO 3597-2 / EN 2562 / EN 2746 |
| Maximum Load | 30 kN |
| Temperature Range | da -80 °C a 149 °C |
| Specimen Thickness   | 1-10 mm |
| Specimen Width | 74 mm |
| Specimen Length | up to 340 mm |
| Mass | 20.00 kg |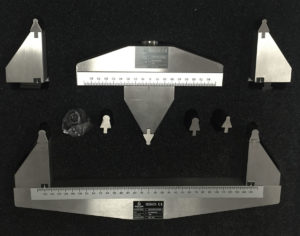 Additional Information:
Requirements for quality control in production environments are usually met by measuring deflection using crosshead position. However, more accurate measurement may be obtained by using an deflection indicator such as a deflectometer.
Materials that do not rupture by the maximum strain allowed under this test method may be more suited to a 4-point bend test. The basic difference between the two test methods is in the location of the maximum bending moment and maximum axial fiber stresses. The maximum axial fiber stresses occur on a line under the loading nose in 3-point bending and over the area between the loading noses in 4-point bending. A four-point loading system method can be found in Test Method D6272.