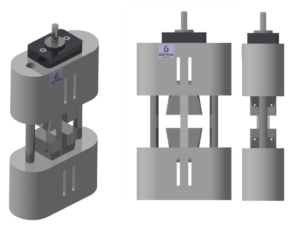 This method defines the compression properties in the plane of composite materials with polymer matrix reinforced with high modulus fibers. The composite material forms are limited to continuous or discontinuous fiber-reinforced composites. For this reason, the elastic properties are particularly orthotropic with respect to the test direction.
This test procedure inserts the compression force in the sample by cutting the wedge socket interfaces.
The way of transfering the loads is different from the procedure in Test Method D695 which compression force is transmitted in the sample before the end of loading, the test method D6641 / D6641M whose compression force is transmitted by the combined cutting and loading order, and test method D5467 / D5467M where compressive force is transmitted by subjecting a honeycomb sandwich beam, with thin skins to four-point bending.
This test method is applicable to composites made from unidirectional tape, wet-tow placement, textile (for example, fabric), short fibers, or similar product forms. Some product forms may require deviations from the test method.
The values stated in either SI units or inch-pound units are to be regarded separately as standard. Within the text the inch-pounds units are shown in brackets.
The values stated in each system are not exact equivalents; therefore, each system must be used independently of the other.
Combining values from the two systems may result in nonconformance with the standard.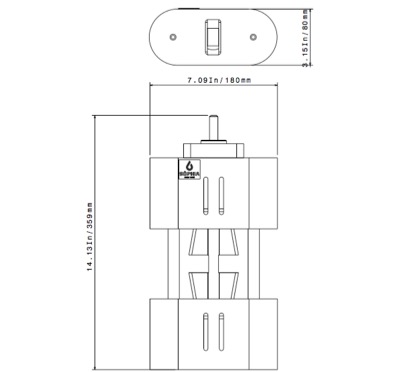 | | |
| --- | --- |
| Test Standard | ASTM D 3410 /  ISO 14126 |
| Maximum Load | 100 kN |
| Temperature Range | from -80 °C to 149 °C |
| Specimen Thickness | 1-10 mm |
| Specimen Width | Max 25 mm |
| Specimen Length | Max 155mm |
| Mass | 20.00 kg |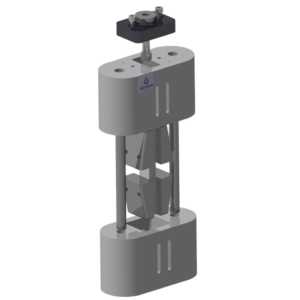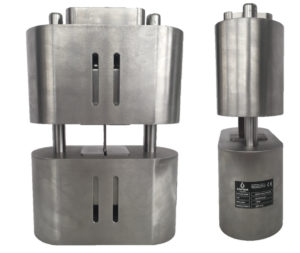 Additional Information:
Additional procedures for determining compressive properties of resin-matrix composites may be found in Test Methods D695, D5467/D5467M, and D6641/D6641M.
Referenced Documents
ASTM Standards
D695 Test Method for Compressive Properties of Rigid Plastics
D792 Test Methods for Density and Specific Gravity (Relative Density) of Plastics by Displacement
D883 Terminology Relating to Plastics
D2584 Test Method for Ignition Loss of Cured Reinforced Resins
D2734 Test Methods for Void Content of Reinforced Plastics
D3171 Test Methods for Constituent Content of Composite Materials
D3878 Terminology for Composite Materials
D5229/D5229M Test Method for Moisture Absorption Properties and Equilibrium Conditioning of Polymer Matrix Composite Materials
D5379/D5379M Test Method for Shear Properties of Composite Materials by the V-Notched Beam Method
D5467/D5467M Test Method for Compressive Properties of Unidirectional Polymer Matrix Composite Materials Using a Sandwich Beam
D6641/D6641M Test Method for Compressive Properties of Polymer Matrix Composite Materials Using a Combined Loading Compression (CLC) Test Fixture
E4 Practices for Force Verification of Testing Machines
E6 Terminology Relating to Methods of Mechanical Testing
E83 Practice for Verification and Classification of Extensometer Systems
E111 Test Method for Youngs Modulus, Tangent Modulus, and Chord Modulus
E122 Practice for Calculating Sample Size to Estimate, With Specified Precision, the Average for a Characteristic of a Lot or Process
E132 Test Method for Poissons Ratio at Room Temperature
E177 Practice for Use of the Terms Precision and Bias in ASTM Test Methods
E251 Test Methods for Performance Characteristics of Metallic Bonded Resistance Strain Gauges
E456 Terminology Relating to Quality and Statistics
E1237 Guide for Installing Bonded Resistance Strain Gages
E1309 Guide for Identification of Fiber-Reinforced Polymer-Matrix Composite Materials in Databases
E1434 Guide for Recording Mechanical Test Data of Fiber-Reinforced Composite Materials in Databases
E1471 Guide for Identification of Fibers, Fillers, and Core Materials in Computerized Material Property Databases