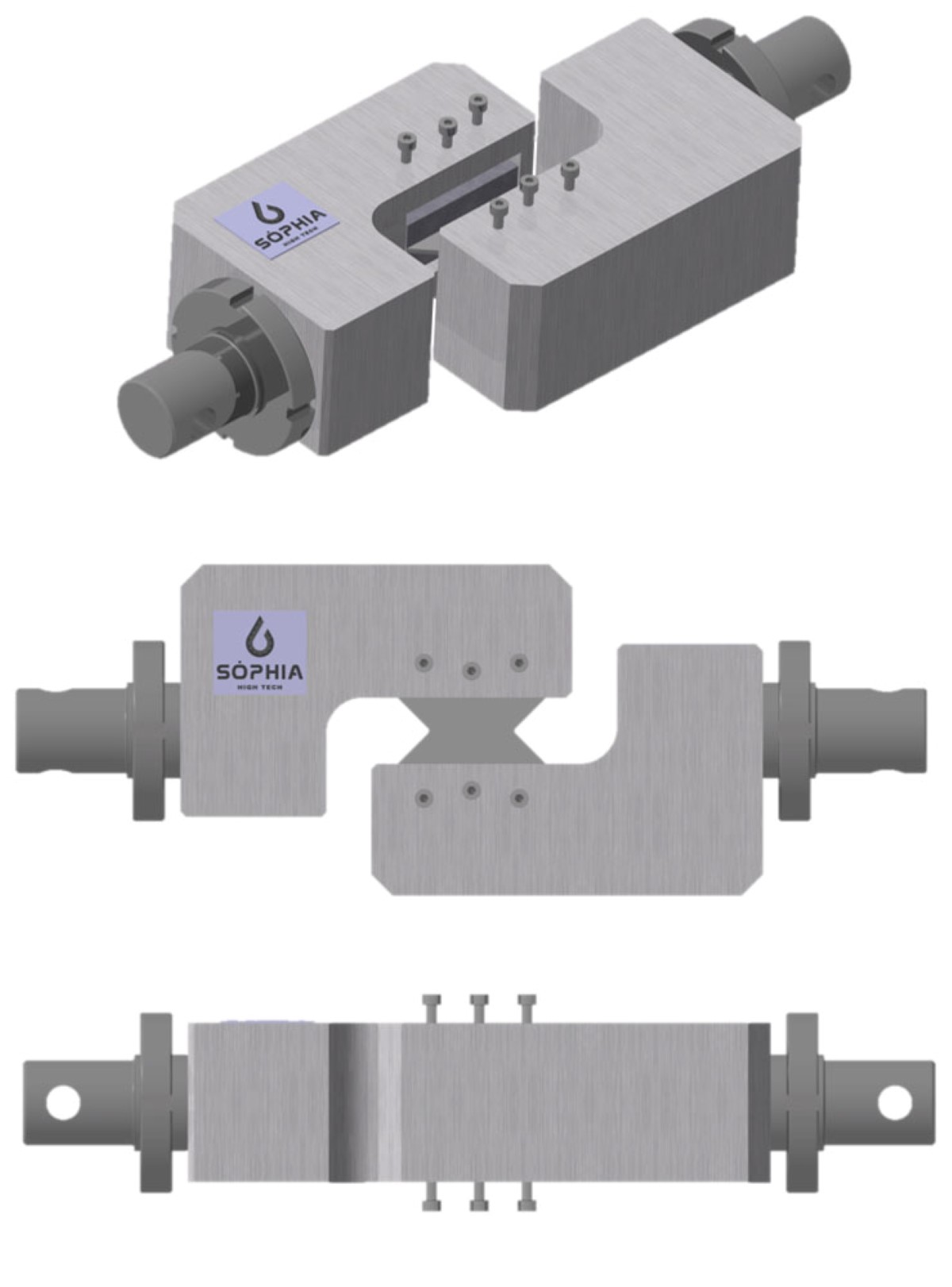 Shear Test Fixtures are designed for in-plane or interlaminar shear testing of composite materials. The V-Notched Beam Method, or more commonly known as the Iosipescu Shear Method, was standardized into ASTM D5379 in 1993, while the V-Notched Rail Shear Method was more recently introduced in 2005 under ASTM D7078. Both test methods share many common characteristics and have the distinctive V-notches in the specimen design, which serve to create a localized and approximate uniform shear stress zone between the notches. Also, a ±45° two-element strain gauge is often used to directly verify the shear strains applied.
It's important to note that the two fixtures in ASTM D7078 and D5379 are quite different in their specimen design, the way in which load is applied to the specimen, and consequently, the type of results obtained.
To ensure alignment of the specimen to the load line, for the ASTM D7078 V-Notched Rail Shear Fixture, plastic V-bars are included. These are placed between the two half fixtures to align the specimen as the clamping screws are tightened. Once setup, the location devices can be removed and testing can begin. The clamping screws on each fixture half are provided on both front and back so that the clamping jaws can be properly centered depending on the specimen thickness. Also, with a thick lock ring, both upper and lower fixture halves are rigidly held, ensuring an accurate test.

| | |
| --- | --- |
| Test Standard | ASTM D7078 – 05/ no ISO equivalent |
| Maximum Load | 100 kN |
| Temperature Range | from -70 to +250°C |
| Specimen Thickness | depending by composite |
| Specimen Width | depending by composite |
| Specimen Length | depending by composite |
| Mass | 8.00 kg |