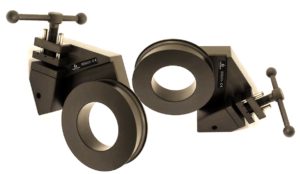 To tensile test cordage,  rope, flat strapping and similar flexible materials that might be otherwise difficult to grip without creating undesirable stress concentrations and premature failures, typically are used split capstan grips. Depending on your needs, it is possible to configure the capstan grips. To hold the sample, capstan grips taken anchors exploit friction.
The end of the sample is firmly fixed between the movable and fixed halves of the split capstan. This allows the specimen to remain in position during the installation phase. Where the specimen wraps around the capstan half, are provided ample radii. Tungsten carbide particles, with a coarseness appropriate to the particular application, usually coat the surfaces of the circumference and the clamping region of each capstan grip.
As the tensile loading is applied, the movable half of the capstan will move, providing further clamping force to the specimen in the split, and thus additional holding power.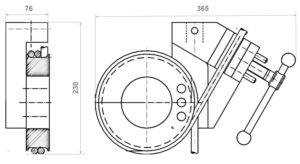 Additional Information:
Test Standard

SPLIT CAPSTAN GRIPS 

for ropes and ribbons
Load
50 kN – 100 

kN – 150 kN – 200 kN – 250 kN

Temperature Range
0 °C to 130 °C
Jaw Surfaces
Pyramid jaws, 1.2 x 45°, 58HRC
Weight
14 kg each grip
Material
Steel