A sandwich panel or the core material itself can be tested  in shear parallel to the flatwise plane.
The fixture can be used to apply either a tensile or a compressive loading, although a tensile loading is most commonly utilized in order to eliminate buckling as a potential failure mode.
Sòphia High Tech is able to supply a fixture useful to apply a loading coherently with the designation ASTM C 273.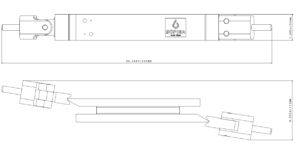 The fixture is designed to accommodate a specimen having a thickness up to 0,6 ", a width up to 2 " and a length up to 10,5″. However, different typologies of specimen can be tested (e.g.  shorter, thinner, etc).
Several non-standard fixture size can be supplied.
The test method is focused  on the determination of shear properties of sandwich construction core materials associated with shear distortion of planes parallel to the facings. It determinates the shear strength parallel to the plane of the sandwich, and the shear modulus associated with strains in a plane normal to the facings.
The test may be led on core materials bonded directly to the loading plates or the sandwich facings bonded to the plates.
| | |
| --- | --- |
| Test Standard | ASTM C 273 A/ no ISO equivalent |
| Maximum Load | 25 kN |
| Temperature Range | da -80 °C a 149 °C |
| Specimen Thickness | 1-15 mm |
| Specimen Width | 50 mm |
| Specimen Length | 260 mm |
| Mass | 4.60 kg |
The core shear properties are fundamental for the design of sandwich panels. This test method provides information on the load-deflection behavior. From a complete load-deflection curve, it is possible to compute core shear stress at any load and to compute an effective core shear modulus.
This test method offers a standard method to acquire sandwich core shear data for quality control, acceptance specification testing, sandwich design, and research and development applications.

Additional Information:
ASTM Standard C 273-11 (2011), "Shear Properties in Flatwise Plane of Flat Sandwich Constructions or Sandwich Cores," American Society for Testing and Materials, West Conshohocken, PA (first issued in 1951).
Referenced Documents:
ASTM Standards:
C 393 Test Method for Flexural Properties of Flat Sandwich Constructions;
C 394 Test Method for Shear Fatigue of Sandwich Core Materials ;
E 4 Practices for Force Verification of Testing Machines;