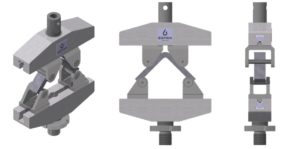 This fixture is useful to indicate the curved beam strength of a continuous fiber – reinforced composite material. For the test run it is necessary to use a curved beam sample 90 ° that has to be positioned for the four-point-bending test apparatus in order to be loaded.
The curved beam is composed of two straight legs joined by a 90 ° bend with a 6.4-mm [0.25 in.] Inner radius. An out of the plane (through-the-thickness) tensile stress is produced in the curve of the sample region when the force is applied. This test method is used for composites made from woven layers or layers of unidirectional fibers. This test method can also be used to measure the interlaminar tensile strength if you have an unidirectional specimen used where fibers are arranged continuously along the legs and the curve.
The fixture is designed to provide out-of-plane structural failure data for structural design and analysis, quality assurance, and research and development.
This standard does not claim to solve all the security problems associated with its use. It is the task of user to establish appropriate safety and health procedures and determine the applicability of regulatory limitations prior to use.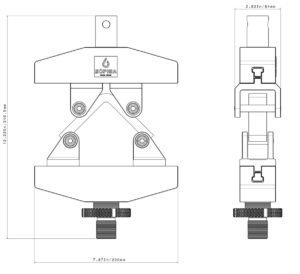 | | |
| --- | --- |
| Test Standard | ASTM D 6415 / no ISO equivalent |
| Maximum Load | 1171 N |
| Temperature Range | da -80 °C a 149 °C |
| Specimen Thickness | 2-12 mm |
| Specimen Width | 27 mm |
| Specimen Length | 200 mm |
| Mass | 3.4 kg |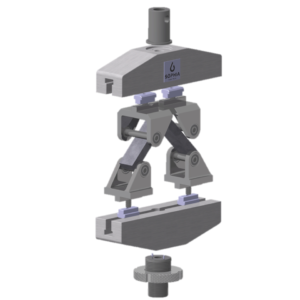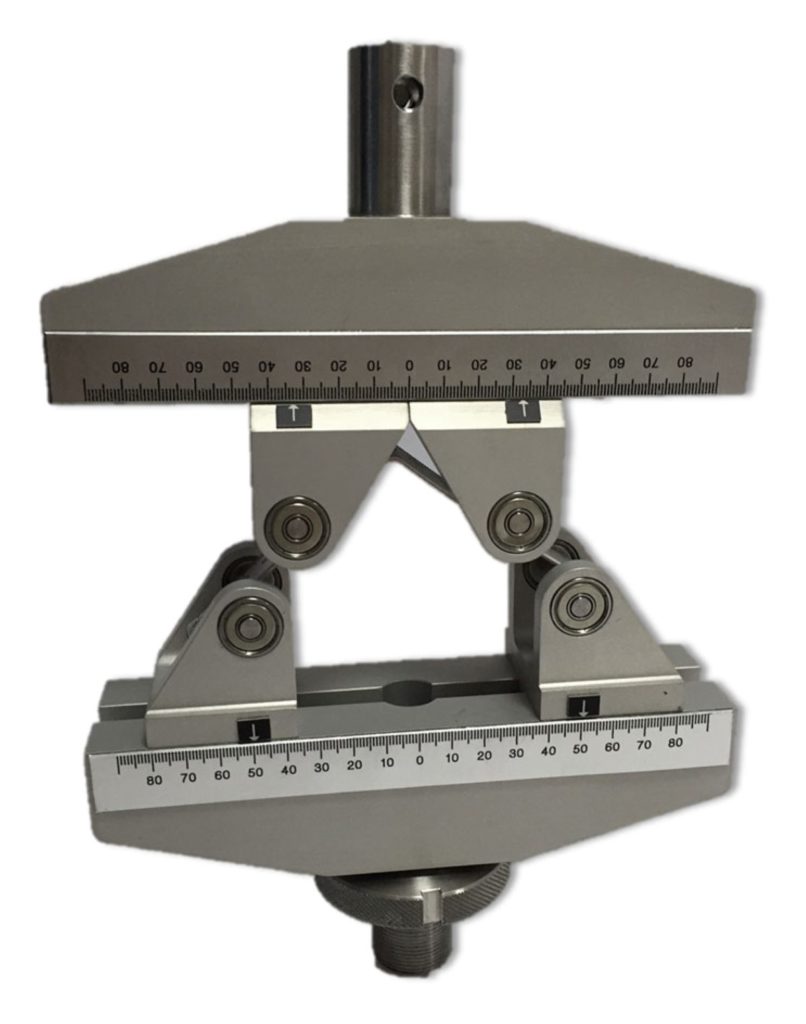 Additional Information:
ASTM Standard D6415-06 (2013), "Standard Test Method for Measuring the Curved Beam Strength of a fiber-Reinforced Polymer-Matrix Composite," American Society for Testing and Materials, West Conshohocken, Pennsylvania (first published in 1999).
AITM1-0069, Issue 2, "Determination of Curved-Beam Failure Load," Airbus S.A.S, Engineering Directorate, Blagnac, France, December 2011.
Referenced Documents
ASTM Standards
D792 Test Methods for Density and Specific Gravity (Relative Density) of Plastics by Displacement
D883 Terminology Relating to Plastics
D3171 Test Methods for Constituent Content of Composite Materials
D3878 Terminology for Composite Materials
D5229/D5229M Test Method for Moisture Absorption Properties and Equilibrium Conditioning of Polymer Matrix Composite Materials
D5687/D5687M Guide for Preparation of Flat Composite Panels with Processing Guidelines for Specimen Preparation
E4 Practices for Force Verification of Testing Machines
E122 Practice for Calculating Sample Size to Estimate, With Specified Precision, the Average for a Characteristic of a Lot or Process
E177 Practice for Use of the Terms Precision and Bias in ASTM Test Methods
E456 Terminology Relating to Quality and Statistics
E1309 Guide for Identification of Fiber-Reinforced Polymer-Matrix Composite Materials in Databases
E1434 Guide for Recording Mechanical Test Data of Fiber-Reinforced Composite Materials in Databases
E1471 Guide for Identification of Fibers, Fillers, and Core Materials in Computerized Material Property Databases