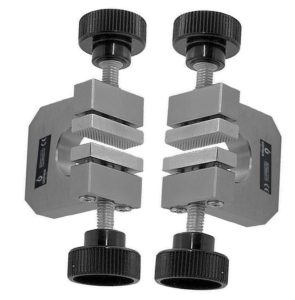 In general, the thin sheet to be tested, plastic or metal film or sheeting up to 0.040 "in thickness, is held by the line of contact at each end between the flat reinforcing plates and the eccentric rolls. To facilitate the installation of the specimen cylinders have a lever arm and are spring loaded. The eccentric cam action of the cylinders makes them self-tightening when a tensile force is applied to the fixture through the threaded end fittings.
Backing plates and the faces of the cylinders generallally are supplied with a tungsten carbide particle coating. However, it is possible to apply alternative gripping surfaces, including smooth surfaces.
In accordance with ASTM Standard D 882, the standard grips accommodate a specimen up to 1″ wide. Is provided, in the end of each grip a 1/2"-13 threaded attachment hole.
Can be provided on request alternate grip configurations and specimen size capacities.
Source of Additional Information:
ASTM Standard D 882-12 (2012), "Tensile Properties of Thin Plastic Sheeting," American Society for Testing and Materials, West Conshohocken, Pennsylvania (first issued in 1946).